Why Vasco Translator?

Who needs a translator?

Our mission
Why
Vasco Translator?
You will find a lot of devices that translate audio to text, but only Vasco Translator comes with no additional costs. Our live translators include a SIM card providing free and unlimited Internet for life in nearly 200 countries. You can still use a translation app, but run it in China or Australia, and you'll regret the cost of the Internet. What is more, having as many as 10 translation engines, our live speech translators give you the best possible translation for a given pair of languages.
Who needs

a translator?
Have you ever struggled to talk to a foreigner? Do you find learning languages challenging? Or maybe you crave to know them all? Vasco portable translators are designed for you. You will be able to speak over 70 languages in almost 200 countries to whomever you want. Whether you love travelling, have family in other countries or associate with immigrants — our live translators are here to help. Buy a Vasco real time translator and forget about all your language troubles.
Our
mission
Nelson Mandela said, "If you talk to a man in a language he understands, it goes to his head. If you speak to him in his language, it goes to his heart". Our mission is to make people talk, to make them understand each other. We truly believe that communication is the key to making our planet a better place. We create our real time translators with this thought in our minds and the world's welfare in our hearts.

Translate voice
As simple as that:
Voice translation into 70+ languages

Free lifetime internet in 200 countries

No additional costs

Translation accuracy at 96%

Translate photos
Take a photo and translate:
Restaurant menus

Signs and warnings

Local newspapers

Books

Translate phone calls
Use a Vasco Translator side by side with your phone and:
Translate what you're saying

Translate what the caller is saying

Get the job done

Save time and money using the only solution of its kind on the market

Translate group meetings
Join a group meeting and:
Translate audio to text

Speak with up to 100 people simultaneously using MultiTalk

Speak during business meetings or remote group calls

Use it to understand tour guides speaking various languages at the same time

Ten Translation Engines
What's in it for you:
The best and most accurate translation possible for a given pair of languages

High-quality, intelligent translations

Translation accuracy at 96%

Clear and comprehensive communication with anyone, anywhere

Free Lifetime Internet for translations
Our devices come with a SIM card providing:
Free and unlimited internet access for a lifetime

Internet for translations in almost 200 countries

No additional costs

A device ready to use out-of-the-box
Choose a translator tailored to your needs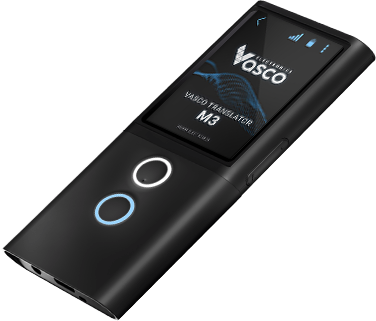 We're designing our translation devices with users in our minds. Choose a translator that you like the best.
Vasco Electronics

in the world
Being a global company at the forefront of innovation, Vasco Electronics specializes in creating instant translator devices designed to facilitate communication and connect people speaking different languages. Operating since 2008, the company has produced a variety of different live translator models, creating pathways between as many as 70 languages — it means that our speech translator devices give you an opportunity to communicate with as many as 90% of the world population. Take advantage of our live translator devices if you want to travel abroad, speak to your family, coworkers and customers from foreign countries or hire immigrants. And don't you hesitate — go anywhere you want and take our instant translator device with you!
For better understanding
The company was founded in response to the growing need for fast and effective speech translator devices designed to translate audio to text in addition to facilitating the use of other modes of communication. One of our primary goals is to make voice translation easy and, since the beginning, our mission has been to tear down language barriers and help people connect with each other by creating live translator devices — and we all know how important effective communication is. Use one of our speech translator devices and see for yourself.
Voice translation has never been that easy. We design our instant translator devices to be simple to use, because language barriers can be torn down more easily if these devices are intuitive and ready to run out-of-the-box. In other words, the best live translator device is a simple translator device.
What's in it for you
Thanks to our instant translator devices, you can translate audio to text, take photo and translate in addition to translating phone calls. Even more, our instant translator devices help in communicating during multilingual meetings consisting of up to 100 people, making voice translation a piece of cake. But not only voice translation is on the menu! Take a photo and translate signs, warnings and books as well as local newspapers, schedules and more — our speech translator will be your partner in travel.
Travel and communicate without restrictions as our live translation devices give you a free and unlimited internet connection in almost 200 countries. No more wasting your own data or paying loads of money for the internet connection in a foreign country. Use our instant translator and go anywhere you want.
In addition to that, thanks to having as many as 10 translation engines, our real time translation devices provide you with the most accurate translation possible for a given pair of languages. We have also built a robust network of distribution on various markets around the world, which makes it possible to deliver our live translator devices to people living all over the planet. Take advantage of the best speech translators and make your life significantly easier.
Join us!
Come and join the ever-growing community of more than 100 professionals and help to create pathways for communication between people from all over the world. Be a part of a revolution in voice translation.