Vasco Translator M3
Voice Translator with Free, Unlimited Internet in 200 countries
Voice translation in 70+ languages
SIM card with free & unlimited internet in 200 countries
96% translation accuracy
PhotoTranslator
TranslaCall - Phone Call Translator
1
Here it is! The state-of-the-art, brand new, sleek and ergonomic voice translator of the year 2021! The future has come and is at your fingertips. Buy Vasco Translator M3 today and talk to people around the world in more than 70 languages!
Let's Talk!
Have you ever had problems with learning foreign languages? Forget about them. Vasco Translator M3 is here to help you understand and be understood wherever you are, whoever you talk to.
Adventure Begins Where English Ends
Do you think everyone speaks English? You might be surprised. That's true there is a stunning number of 1.5 billion English speakers around the world, but remember there are almost 7 billion people living on this planet. So how would you speak to those 80% who cannot understand a word you're saying? We have an answer, and this answer is Vasco Translator M3!
How the Voice Translator Works
Turn it on, choose two languages, press the button… and speak Spanish, Thai or even Hungarian.
Now, you can finally explain to the Japanese waiter that you want a decaf, buy a train ticket to Warsaw without knowing Polish or talk for hours with your friends from the other side of the globe. Vasco Mini 3 is here to help you get across.
High-Quality, Ergonomic Shape
Vasco Translator M3 has been meticulously designed by our team of high-tech experts who spent hours creating its sleek and ergonomic shape on the basis of our customers' experience.
The effect is stunning - a cutting-edge voice translator, small enough to fit into your pocket and shaped the way it's easy to hold it in your hand.
Noise? Don't Worry. We've Taken Care of It.
Vasco Translator M3 is equipped with two microphones. All because you're very likely to use it in noisy streets of Manhattan or Tokyo. The microphones work simultaneously to recognize your voice and translate what you want to say without any mistakes.
PhotoTranslator: Understanding Printed Text
Vasco M3 is equipped with a very useful photo translator. Just take a photo of the menu in a foreign language, a sign, or a local newspaper and understand what's written there.
Learning: Master the Basics of Foreign Languages
Vasco Translator M3 is a truly unique device which does not only help you communicate with foreigners, but also teaches you new languages! Based on the flashcards' method, this smart app will be your personal tutor in vocabulary and pronunciation. See how easy, fun and effective it is to learn glossary which you can later use while traveling or simply stun your friends with your knowledge!
The proprietary app is simple to navigate and motivates the user by showing their learning progress. Just like all Vasco Electronics software it is also constantly developed, meaning that new vocabulary and languages will be added subsequently.
Embark on the journey of learning foreign languages in the most effortless way possible!
MultiTalk - Connects Up to 100 People Speaking Different Languages with the Portable Translator
We bet you can't list 70 languages. And there are some 6,000 out there! But the fact is, that languages covered by Vasco M3 will let you speak to over 90% of the world's population. Using Vasco Translator M3 you can even talk to 100 people at the same time.
Its in-built MultiTalk function can connect many people, either gathered at a conference or talking to each other from far sides of the planet. MultiTalk immediately translates what's said and records it on your screen, so you can quickly get back to previous conversations. All this translated to your mother tongue.
TranslaCall: Long Distance Speech Translation
Having a call from across the ocean in a foreign language? Use Vasco Translator M3 to perfectly understand what your partner from China says. TranslaCall is a feature designed for phone call translations, designed in a way that has never been seen on the market before.
Why You Should Choose Vasco Speech Translators
Vasco Translator M3 is for sure the Ferrari among electronic voice translators. Why? First of all, its translation accuracy is as high as 96%. You can talk to foreigners without any problems, even if you slept during foreign language classes.
Vasco M3 is also equipped with a SIM card with FREE and UNLIMITED data transfer for translations in almost 200 countries. That's the one and only solution on the market.
This little speech translator is a very powerful tool. Let's recap its most outstanding features.
Bonjour, Hola, Dzień dobry, Konichiwa? The Vasco Portable Translator speaks 70+ Languages
See them all in the table below:
[langs_list]
Specification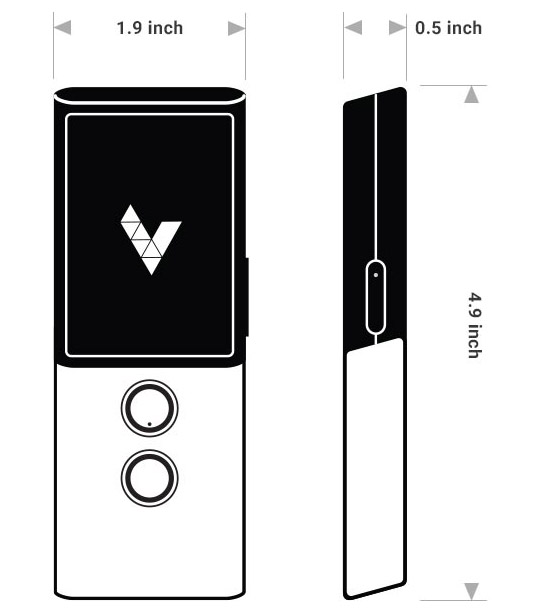 | | |
| --- | --- |
| Display | 240*320 QVGA 2.0" IPS |
| Processor | MT6737V/WM Quad-core CA53 1.1GHz |
| RAM | 1 GB |
| ROM | 16 GB |
| Modem | 4G |
| WiFi | 2.4 GHz |
| Battery | 1700 mAh |
| Size | 1.9 x 4.9 x 0.5 in (49 x 125 x 13mm) |
| Weight | 0.19 lb(88g) |
| Earphone input | mini jack |
| USB input | USB Type-C |
| User manual | Download Vasco Translator M3 manual |
Countries where the Vasco Portable Translator works
Click on the map to see more details about the countries where Vasco Translator M3 works.
[map_aeris]
Additional functions
MultiTalk
TranslaCall
PhotoTranslator
The Learning app
Included
Vasco Translator M3
International SIM card
Charger
USB cable type-C
Protective case
Quick Start Guide and online user manual in English
CHOOSE THE STYLE OF YOUR SPEECH TRANSLATOR: