Vasco Translator V4
UNIVERSAL TRANSLATOR WITH 108 LANGUAGES AND FREE LIFETIME INTERNET
Understand 108 languages
Enjoy free lifetime Internet for translations
Get translations in less than 0.5 sec.
See clearly on a big 5-inch screen
Rely on powerful speakers (99 dB)
Feel safe: it's shock-resistant and splashproof
Speak like a local with this universal translator
This AI translator comes with a wide range of features that will change the way you travel and work, providing much more than just voice translations. You can take a photo and translate a menu written in another language, or type a foreign text with a keyboard.
What's more, you can speak with up to 100 people from around the world, using a chat-translation feature called MultiTalk. You can write or say messages in your own language and understand the others.
Don't worry about dropping the device or covering it with splashes of water. The Vasco universal translator is both shock-resistant and splashproof.
You can also see the translations clearly on the big 5-inch screen, where you can use both digital and physical buttons.
The modern and ergonomic design of the Vasco was recognized during the NY Product Design awards, where our devices were honored with the statuette in the Conceptual — Digital, Electronic Devices & Accessories category.
Vasco Translator V4 also won the Red Dot Design Award for the modern and user-friendly design. It was specifically appreciated for its pleasant feel and comfortable pocket-size.
See where the Vasco universal translator works
Don't worry about the extra costs abroad. Vasco provides free lifetime Internet access for all translations.
Click on the map to see more details about the countries where Vasco Translator V4 works.

JOHANNES PICKMANN
Germany
star star star star star
Vasco is small, handy, quick to use, incredibly fast in translation and incredibly accurate in translation, which was very important for our business.
INTERNET COVERAGE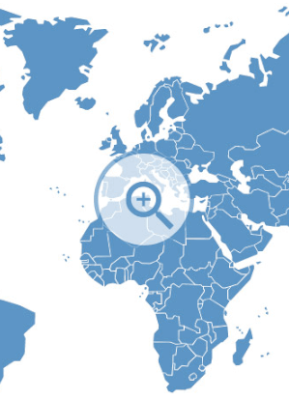 SPECIFICATION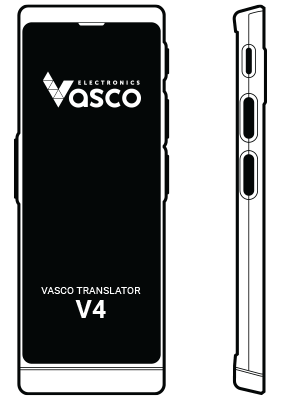 Unlimited, free Internet for a lifetime
All voice translators rely on Internet access, but only our products come with a SIM card providing free and unlimited Internet for life. Speak like a local in as many as 200 countries, with no additional costs when traveling to Australia or China, etc.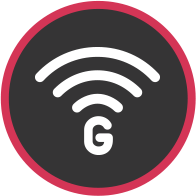 You speak, Vasco translates
Created by a team of passionate experts, this universal translator supports 108 languages, with an aid of 10 AI-powered translation engines. It means that you can connect with more than 90% of the world's population! Just press the button and ask for directions in Japan or China.
Translate from a picture of a menu and order what you really want at the restaurant of your choice. Rest assured you'll be understood on the noisiest streets in big cities thanks to powerful sound from 99 dB speakers. With Vasco AI translator you can enjoy instant and natural conversation all around the world (less than 0.5 sec.).
Vasco Translator V4 can translate 108 languages from the picture, 76 languages from speech and 90 languages from the text.
More than just a translator
Connect with the vast majority of the world's population and make friends around the globe, talking like a native speaker anywhere you go. Even more, use this universal translator during holidays abroad, business travels, or speaking to your in-laws from a foreign country.
Translate voice with a native-speaker-like pronunciation, translate from a picture, and more. See for yourself.

Translate easily even in the loudest surroundings
Carry the ability to translate even in the loudest environments and surroundings such as crowded city streets, train stations, or busy airports.
Precise microphone and background noise reduction (up to 99%) will let you speak freely and translate every word you utter with no unnecessary pauses. Speak your mind and be heard anywhere you go.

The cost of the Internet won't bother you anymore
An Internet connection is necessary for any kind of translation provided by portable devices. This smart AI translator offers free, unlimited, and lifetime Internet access for translation in nearly 200 countries.
The SIM card is already included in the device and operates with over 700 GSM operators around the globe. All you have to do is just take your AI translator out of the box and start translating. Go anywhere you want and stop worrying about the costs of the data transfer abroad when traveling.

Sound like a native in any language
You can feel like a local anywhere you go, as this universal translator provides a native-speaker-like pronunciation.
Speak to the AI translator in your language and impress a Spanish, Japanese, or a Hungarian speaker by communicating with them like a local!

Charge once and translate longer with a powerful battery
No need to charge your AI translator every hour! Vasco Translator V4's battery lasts up to 180 hours in a standby mode and up to 48 hours in continuous operation.
Charge your universal translator once and use it without worry that it would run out of battery quickly. Translate from a picture and speech for a longer time on one battery charge.

Speak and learn a language of your choice
In addition to using your intelligent Vasco AI translator to translate voice, you can also start learning a new language thanks to a dedicated learning app.
Learn new vocabulary and practice pronunciation anywhere and anytime you want. You can choose from as many as 28 languages.

See clearly on a big 5-inch screen
This universal translator comes with a 5-inch ergonomic touchscreen that lets you navigate through different features of the device comfortably and intuitively. What's more, it allows you to see the text and translations clearly.
Digital buttons on the big screen make the navigation easy. There's also an option to use the physical buttons if you find them more convenient.

Shocks, water and dust won't stop the translations
This AI translator can resist a variety of adverse conditions, as it is shock-resistant, splashproof and dustproof. You can take it anywhere you please and expose it to anything that occurs on the road.
Embark on a mountain trip and feel safe with your universal translator, knowing that it can withstand anything. The translations won't stop!

Get your message across, speaking like a native
While translating from English to German seems fairly easy, it gets much more difficult with e.g. Japanese. Luckily, this intelligent AI translator comes with 10 translation engines: each language pair is translated with the help of the one that provides the best and most accurate translation.
This way, you can be understood as if you were talking like a native. Note: common translation apps have only one engine. They also translate into English before the target language, which lowers the quality significantly.

Type in and translate any text
You can translate voice and translate from a picture, but that's not everything this AI translator has to offer.
Type with a keyboard and translate foreign words thanks to this text-translation feature. Take advantage of this unique functionality and understand your surroundings way better.

Take a photo and understand a menu, schedule, etc.
This universal translator comes equipped with a photo translation feature. Boasting a high-quality Sony camera, this device lets you translate from a picture of a menu, schedule, warning sign, book, and more.
Imagine being in a restaurant — not only can you communicate with a waiter, but you can also understand the menu and choose this one dish that you really want. Treat yourself and make your day better!

Be understood even in the loudest surroundings
In a really noisy environment, whether it's a crowded big city street, or a train station, you don't have to worry about being misunderstood.
This universal translator provides the loudest and clearest pronunciation ever thanks to a powerful speaker — 99 dB! This volume can be compared to the noise made by a busy street, shouted conversation, or a motorcycle.

Translate with a push of a button
Adding to its universal and intelligent design, this AI translator gives you the comfort of using both digital and physical buttons.
Speak easily and translate with just one press.
What's included:
Vasco Translator V4
Built-in international SIM card
Charger
USB cable type-C
Quick Start Guide and online user manual in English, Spanish and more languages.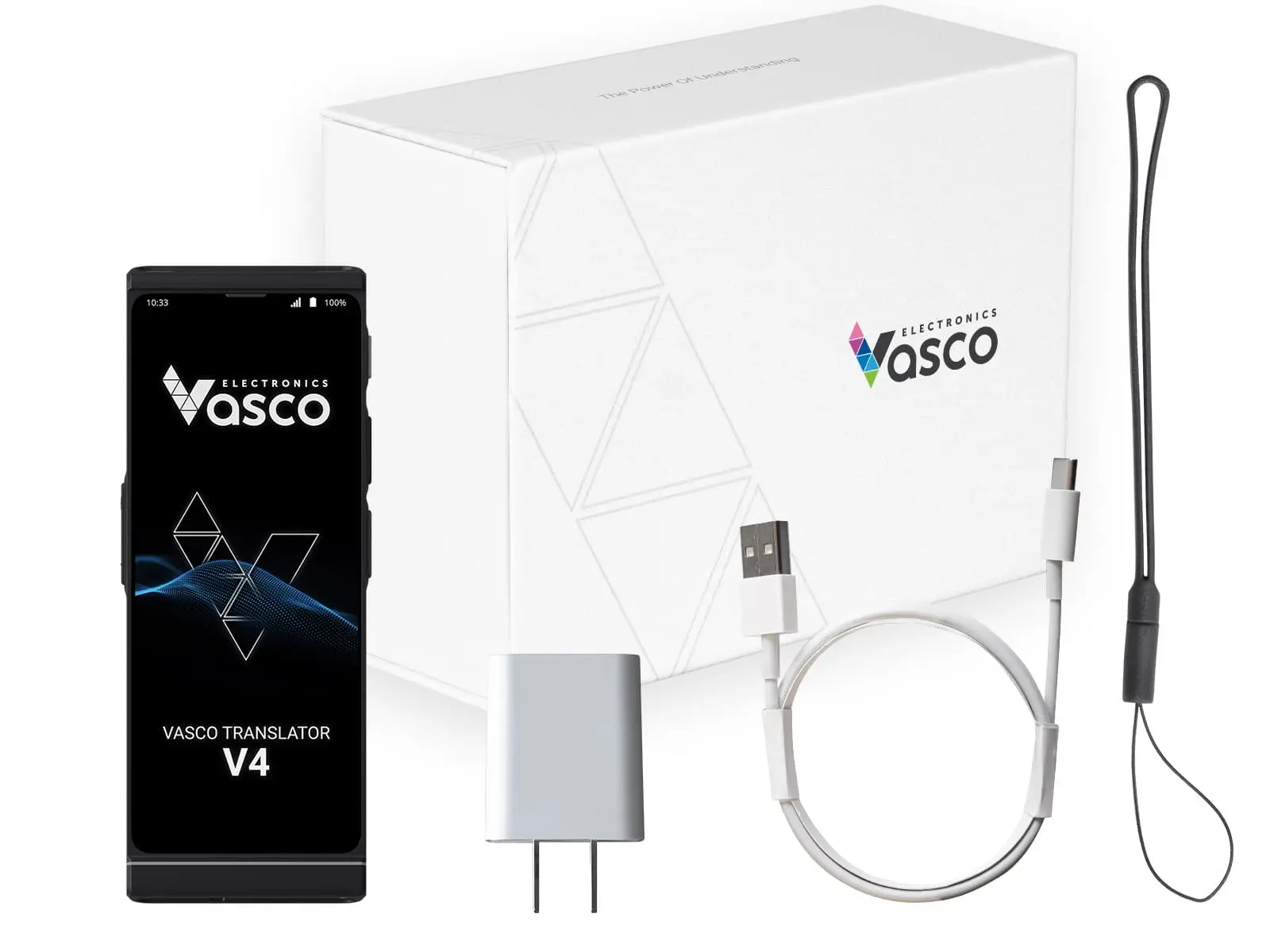 | | Voice translation | Pronunciation | Photo Translator |
| --- | --- | --- | --- |
| German | | | |
| Polish | | | |
| English (United Kingdom) | | | |
| English (United States) | | | |
| French (France) | | | |
| Spanish (Spain) | | | |
| Hungarian | | | |
| Russian | | | |
| Italian | | | |
| Czech | | | |
| Romanian | | | |
| Afrikaans | | | |
| Albanian | | | |
| Amharic | | | |
| Arabic | | | |
| Armenian | | | |
| Azerbaijani | | | |
| Basque | | | |
| Belarusian | | | |
| Bengali | | | |
| Bosnian | | | |
| Bulgarian | | | |
| Burmese | | | |
| Catalan | | | |
| Cebuano | | | |
| Chinese (Cantonese) | | | |
| Chinese (Mandarin) | | | |
| Corsician | | | |
| Croatian | | | |
| Danish | | | |
| Dutch | | | |
| Esperanto | | | |
| Estonian | | | |
| Filipino | | | |
| Finnish | | | |
| French (Canada) | | | |
| Frisian | | | |
| Galician | | | |
| Georgian | | | |
| Greek | | | |
| Gujarati | | | |
| Haitian Creole | | | |
| Hausa | | | |
| Hawaiian | | | |
| Hebrew | | | |
| Hindi | | | |
| Hmong | | | |
| Icelandic | | | |
| Igbo | | | |
| Indonesian | | | |
| Irish | | | |
| Japanese | | | |
| Javanese | | | |
| Kannada | | | |
| Kazakh | | | |
| Khmer | | | |
| Korean | | | |
| Kurdish | | | |
| Kyrgyz | | | |
| Latin | | | |
| Latvian | | | |
| Laotian | | | |
| Lithuanian | | | |
| Luxembourgish | | | |
| Macedonian | | | |
| Malagasy | | | |
| Malay | | | |
| Malayalam | | | |
| Maltese | | | |
| Maori | | | |
| Marathi | | | |
| Mongolian | | | |
| Nepali | | | |
| Norwegian (Bokmål) | | | |
| Nyanja (Chichewa) | | | |
| Pashto | | | |
| Persian | | | |
| Portuguese (Brazil) | | | |
| Portuguese (Portugal) | | | |
| Punjabi | | | |
| Samoan | | | |
| Scots Gaelic | | | |
| Sesotho | | | |
| Serbian | | | |
| Shona | | | |
| Sindhi | | | |
| Sinhalese | | | |
| Slovak | | | |
| Slovenian | | | |
| Somali | | | |
| Spanish (America) | | | |
| Sundanese | | | |
| Swahili | | | |
| Swedish | | | |
| Tajik | | | |
| Tamil | | | |
| Telugu | | | |
| Thai | | | |
| Turkish | | | |
| Ukrainian | | | |
| Urdu | | | |
| Uzbek | | | |
| Vietnamese | | | |
| Welsh | | | |
| Xhosa | | | |
| Yiddish | | | |
| Yoruba | | | |
| Zulu | | | |
Average rating
(9 opinions)
:
---